Four Reasons to subscribe to Palmoil.io
This month, new customers can sign up for a free one month trial of Palmoil.io - MapHubs #palmoil supply chain and #deforestation monitoring service. Here are four reasons to give Palmoil.io a go.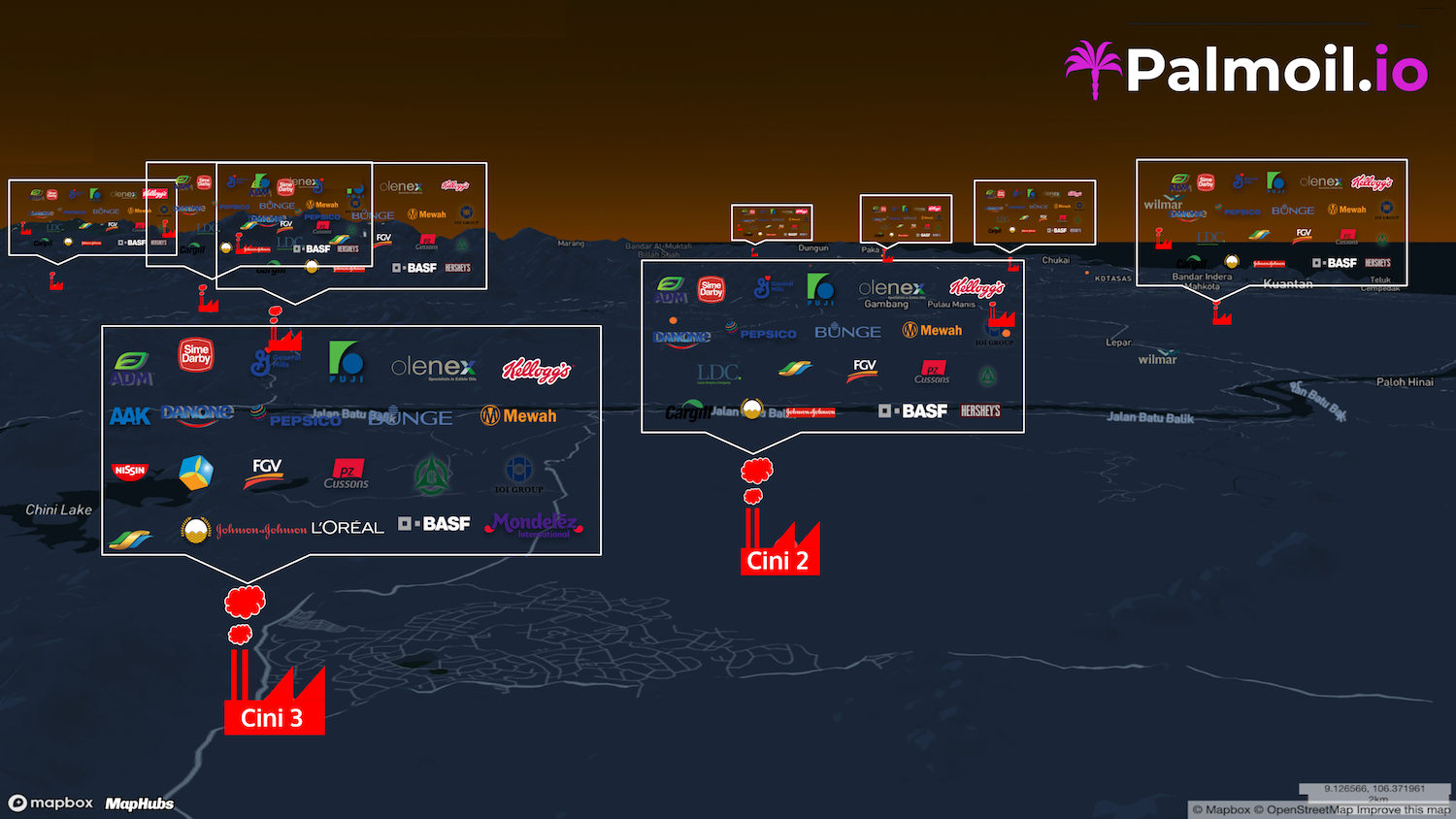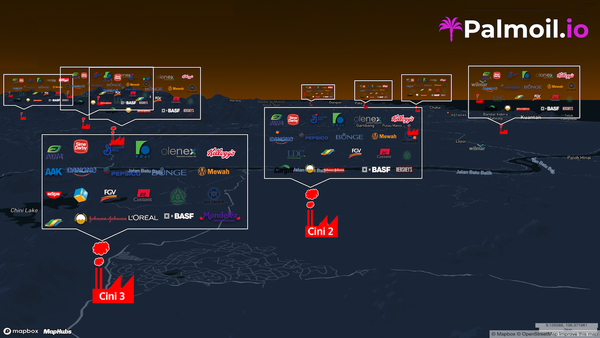 Palmoil.io reflects the industry it monitors. If you buy just one ton of palm oil derivative like stearic acid, it is likely that the palm oil comes from hundreds of mills supplied by thousands of plantations. These complex supply chains make companies interdependent on each other and make it difficult for any company to deliver deforestation-free palm oil.
Shared supply chains means shared risks, and Palmoil.io is the first monitoring system to reflect this reality. We give the first an industry wide view of deforestation and social risks from the mill to the buyer. Here are four benefits of the Palmoil.io approach to monitoring.
1. No silos
While other monitoring systems silo your supply chain, we tell you not only your risks but also whether they are shared with other buyers. We tell who buys from who, track grievances, and recent group suspensions and reinstatements. This helps you understand how peers are responding to grievances and helps facilitate collaboration between buyers on shared risks. For privacy, we give you a dedicated "portfolio". Portfolio helps you make lists, aggregate risks scores, and share them securely with your team.
2. Actionable Insights - Beyond pixels and algorithms
Pixels and algorithms only tell you that deforestation has occurred, not what and who caused it. Palmoil.io analyzes 2,000+ mills every month for deforestation and also provides our premium subscribers with detailed monthly Mill Risk Insights or MRIs, reviewed by our analysts.
MRIs provide
before and after satellite scenes of deforestation cases
Contextual layers like concession boundaries.
Concise descriptions of deforestation
MRIs also feature likely transport routes from alert locations to the mill and downloadable spatial files of the alert location.
We also monitor non-deforestation risks such as the U.S. Customs and Border Protection Work Release Order banning Sime Darby and FGV imports into the US. We track US facilities and companies that still source from both companies.
3. Regular updates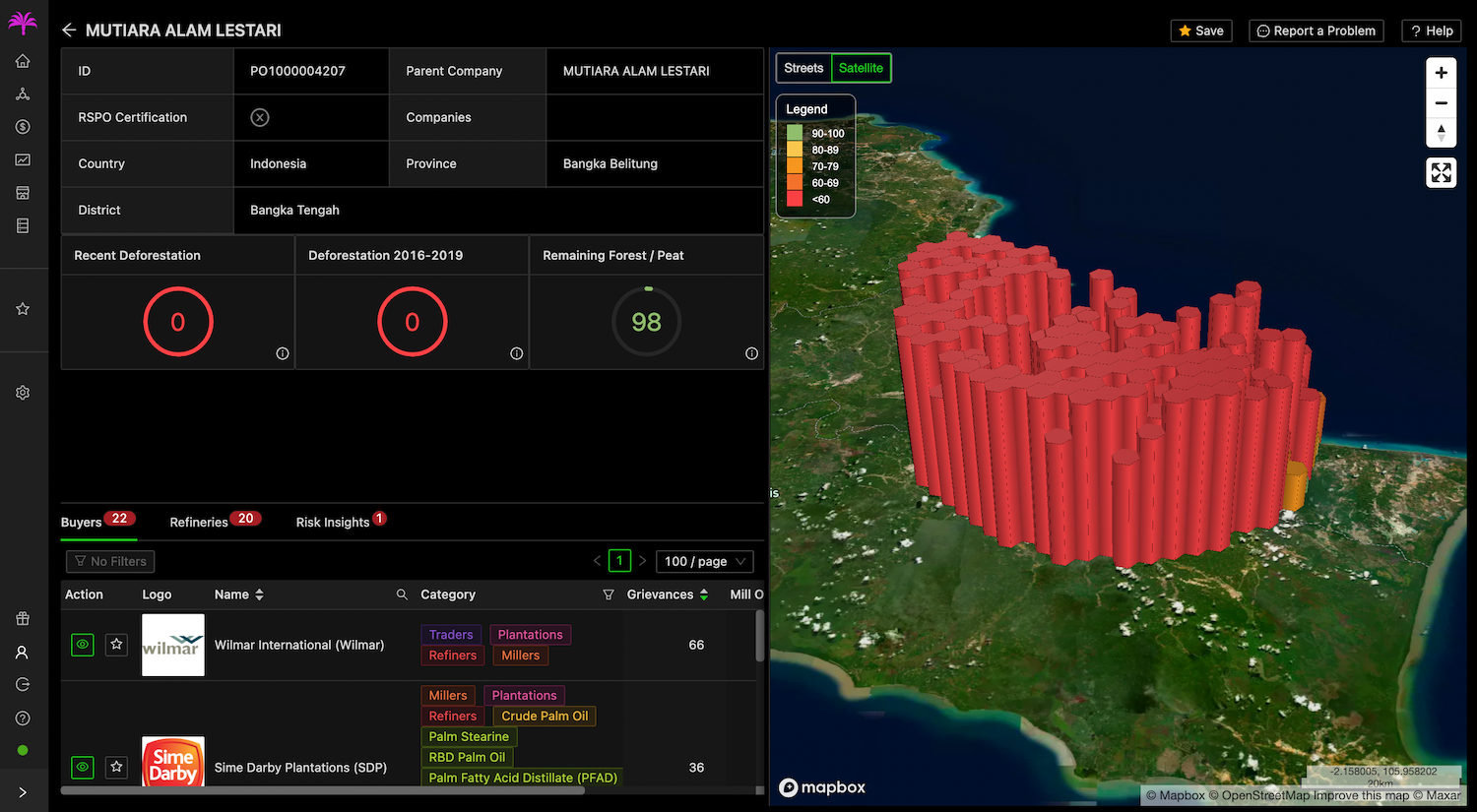 Palmoil.io updates mills ratings every month with new recent deforestation statistics. Grievances are updated from major trader and buyer trackers and are filed on dashboards of related grievance parties. This helps you track emerging risks as well as how your suppliers are responding to filed grievances. New MRIs are produced each month and filed on the dashboards of major growers, traders, and buyers through their mill lists.
4. Affordable
For only $49 per month, subscribers can access Palmoil.io's 2,000+ mill ratings, 1,100+ grievances, 400+ processing facility ratings, and hundreds of company dashboards with a total of 65,000+ supply chain relationships. For companies engaging suppliers, Palmoil.io Pro provides access to our database of monthly insight reports, satellite imagery analysis, and concession information. This gives buyers the critical information to engage suppliers and address concerns. Whether you buy one ton of stearic acid or a hundred thousand tons of crude palm oil per year, palmoil.io fits all budgets.
Free trials for new customers for the month of June and more features to come!
We are just getting started. In the coming weeks, we will be adding new explore features to our maps, additional supply chain traceability, and expanding our mill database. Sign up today to begin your free trial!