Palmoil.io links deforestation inside Indonesia concessions to global supply chains
The biggest challenge in deforestation monitoring is determining who caused it. This is difficult for a number of reasons. First, concessions - areas licensed to oil palm companies for industrial plantations - are not widely available. Second, data that is publicly available tends to be out of date or incomplete. And third, the ownership of plantations is often obscured by opaque corporate structures.
Palmoil.io now lifts this veil of secrecy, providing monthly deforestation metrics and maps for all concessions in Indonesia. Here's how we do it.
Palmoil.io analyzes all concessions for deforestation every month.
Every month, Palmoil.io uses RADD alerts to detect deforestation inside all known concessions in Indonesia. We use a hex map to show you where deforestation occurred inside the concession boundary. You can select a time range to monitor the concession over time.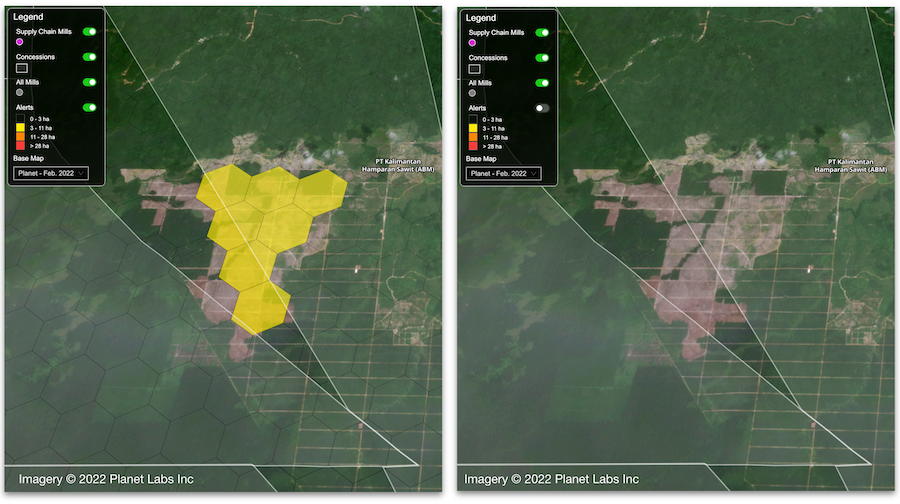 To determine when deforestation occurred and how it was likely caused, monthly high resolution satellite scenes are available as a base map. Deforestation metrics are also available between 2016 and 2019, which covers the Indonesia moratorium period as well as compliance with RSPO and potential EU and US Forest regulations. To monitor future risk, you can also check how much forest remains inside concessions.
Tracing concessions to mills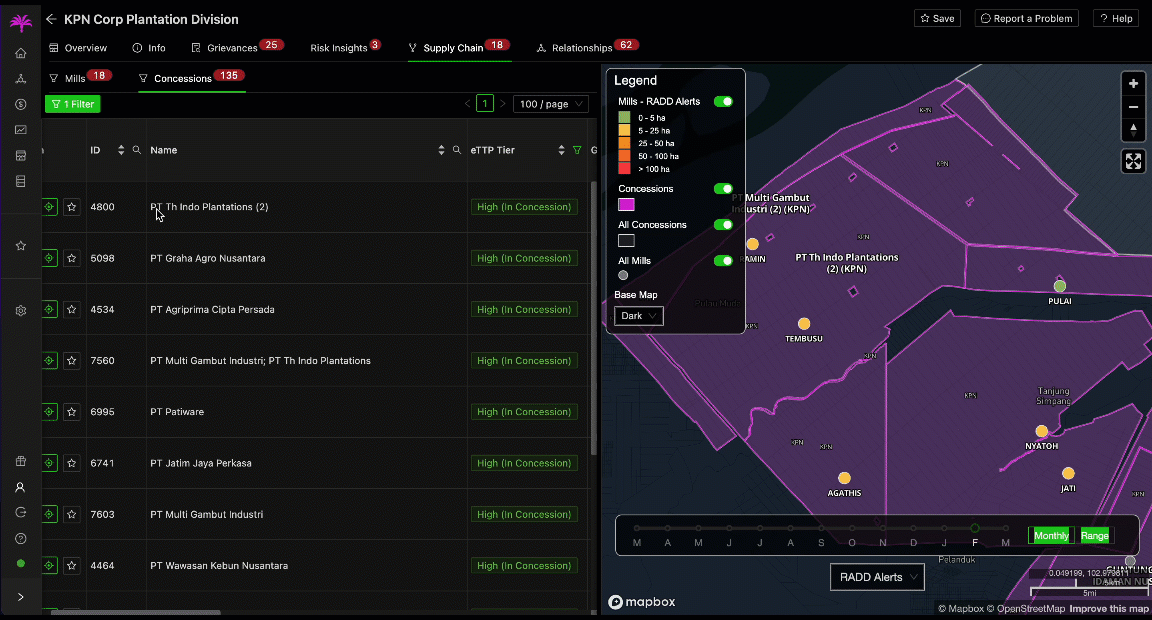 Palmoil.io links concessions to mills with a custom built traceability model. We determine traceability using a combination of proximity from the concession to nearby mills and company ownership relationships. Traceability is divided into 4 tiers.
From mills to global supply chains
If your company has a palm mill list, there is an excellent chance that we already monitor concessions that you source from and trace them to your supply chain. You can check if we monitor your company here. We also link mills and concessions to hundreds of grievances, so you can track how your suppliers are responding to cases.
Our Risk Insights do the deforestation analysis for you  
If you need help monitoring concessions, Palmoil.io's expert analysts review all recent deforestation concessions and produce concise risk reports. The reports verify deforestation, determine when it occurred, and provide further details on supply chain linkages. Over 200 reports are available through our enterprise tier and at least ten new reports are added each month.
Concession monitoring is now available at an affordable price
Palmoil.io transparency extends to our pricing. We charge $299 per month/user for access to concession level monitoring and supply chain monitoring. Don't need this level of detail, we still offer our basic service at $49 per month/user. For companies and organizations with large and complex supply chain monitoring needs, contact us about our enterprise service.