Palmoil.io Newsletter - June 2022
Palmoil.io's June 2022 Newsletter is packed with new insights, features, and tips to make the most of your Palmoil.io subscription.
Welcome to our second monthly newsletter. This month we update you on our latest features, highlight high risk concessions and mills as well as tips on how to make the most out of your palmoil.io subscription. This newsletter is also publicly available on our blog. Feel free to share it.
1. What's new
Tree Cover Loss 2015-2021
All Palmoil.io mills and concessions are now analyzed for historical deforestation using Hansen et al. Annual Tree Cover Loss. This gives us consistent results for likely forest loss in proximity over 2,000+ mills globally as well as all known concessions in Indonesia and Colombia. We have developed our own technique for filtering replanting of existing plantations, so our annual forest loss stats better reflect of natural forest loss. Furthermore, we have broken down loss stats by year, so you can check individual years and review mills and concessions in your supply chain.
Mill upload tool
We have now made it even easier to use Palmoil.io. If you have a mill list, you can now load it directly into Palmoil.io. Just upload a list with Universal Mill List IDs and we match it to our data, giving your deforestation statistics for each of your mills. The list is stored privately, so you can review a new mill list before publicly releasing it. You can also break down your list by Group, region, or volume, and upload each list into your private Portfolio.
Supporting the Universal Mill List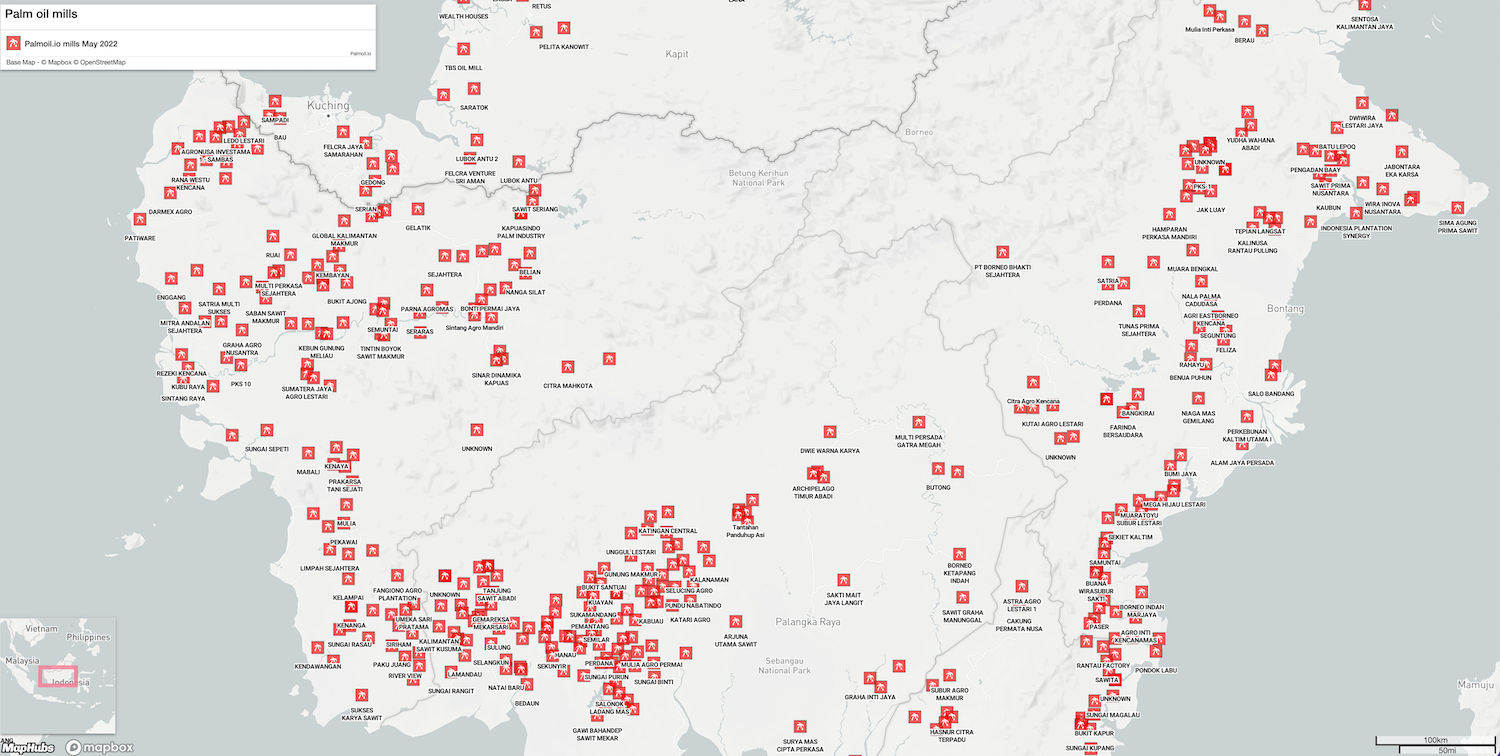 We have been working with Rainforest Alliance to verify new mills for inclusion in the next updated Universal Mill List. This ensures that any new mills we find will receive a UML ID, which will ease uploading them into Palmoil.io.  If you have a mill list, feel free to send it to us and will review it for new mills free of charge. Any potentially new mills will be sent to the Universal Mill List for verification.
The upcoming version of the Universal Mill List will feature approximately 44 new mills that were either found or confirmed by us and our subscribers. We encourage other organizations and companies to contribute mill data to the Universal Mill List team.
New Risk Insights
New Risk insights highlight continuing industrial deforestation inside concessions and close proximity to palm mills. We found ongoing industrial deforestation inside Salim/Indofood group concessions in Papua as well as major peat burning and tiger habitat in West Sumatra. The example above illustrates peat burning in smallholder areas within 3km of Tapan mill. Due to the presence of smallholder palm plantations, we assume this is being cleared for new palm planting.
3. What's coming up
Malaysia concessions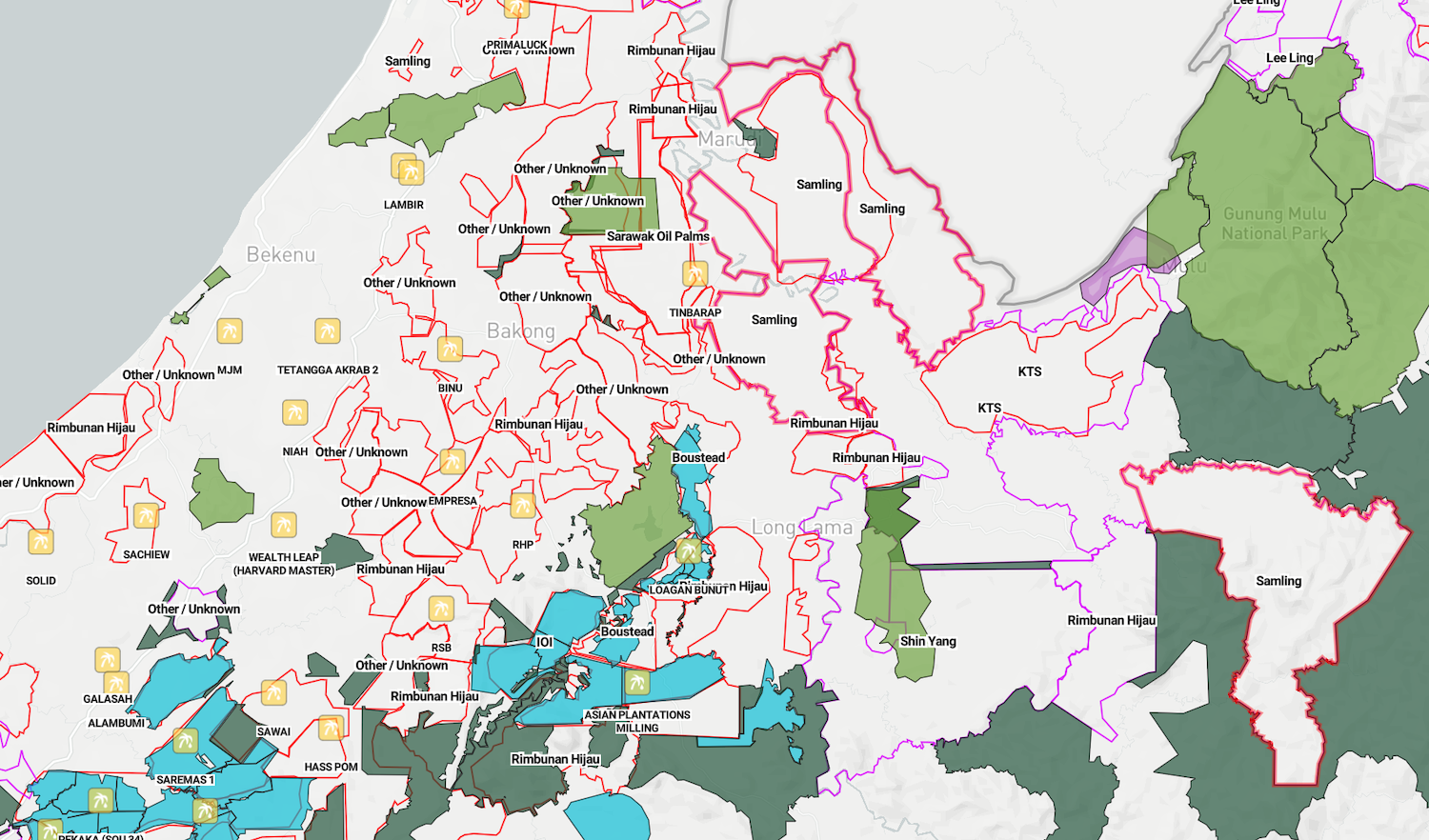 In July, Palmoil.io will extend our concession monitoring to Malaysia. We plan to have a working concession map for all of Malaysia, which we will link to nearby mills using our estimated traceability to plantation mills.
If you are interested in helping our Malaysia concession work, please contact us.
2. Tip of the month
Grievance tracking beyond your tracker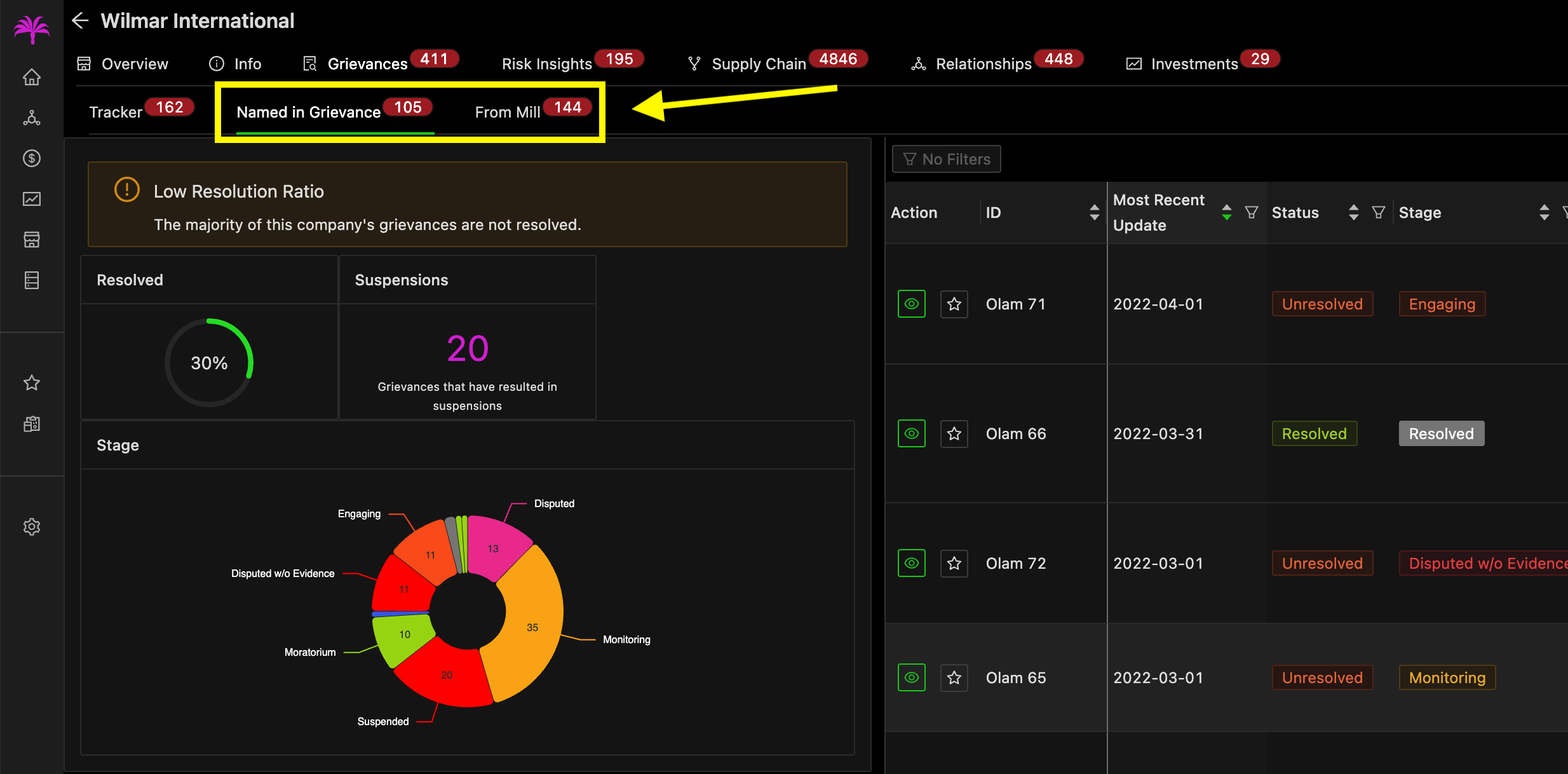 If you maintain a public tracker, it is likely that we have added your grievance responses to our database. However, we not only track your grievance responses, but we also track whether you are named in another companies tracker as a supplier or trading partner. We also match mills in your supply chain to any associated grievances. This ensures that you a full view of all grievances that you may be associated with.
If you don't have a tracker, we maintain a tracker for you. If you have a mill list, you will see a grievance tab linked to your most recent mill list. You can make edit and publish this tracker with our tracker tool. Contact us at info (at) maphubs.com for more information.
Case of the month
For several months, we have been tracking this major deforestation event in the South Region of Cameroon. According to a recent Greenpeace report, the Camvert concession will be 60,000 ha and occupies a globally significant region for biodiversity, featuring forest elephants and chimpanzees. Based on our analysis, we estimate Camvert has already cleared over 3,600 ha with 378 ha cleared in the past month alone.
While it will be several years before Camvert begins producing palm fruit, but traders and buyers with NDPE policies should be aware that Camvert is already subject to allegations of illegality and exploitation.
The case illustrates that before we laud palm oil-related deforestation declines in Indonesia, we need to consider the industry's increasingly global forest footprint. Palm in Cameroon or Colombia is still palm and can potentially enter global supply chains.
Coming up
Updated mill lists, we will complete our quarterly mill list updates. This means every companies with a new mill list will receive update deforestation statistics for each mill and concession that we link to estimated TTP.
Malaysia concessions deforestation metrics linked to nearby mills and their supply chains.