Palmoil.io Newsletter - October 2023
October has been a busy month with deforestation and fire spikes, a major supply chain data update, and prep for two upcoming conferences including an exciting new EUDR-compliance tool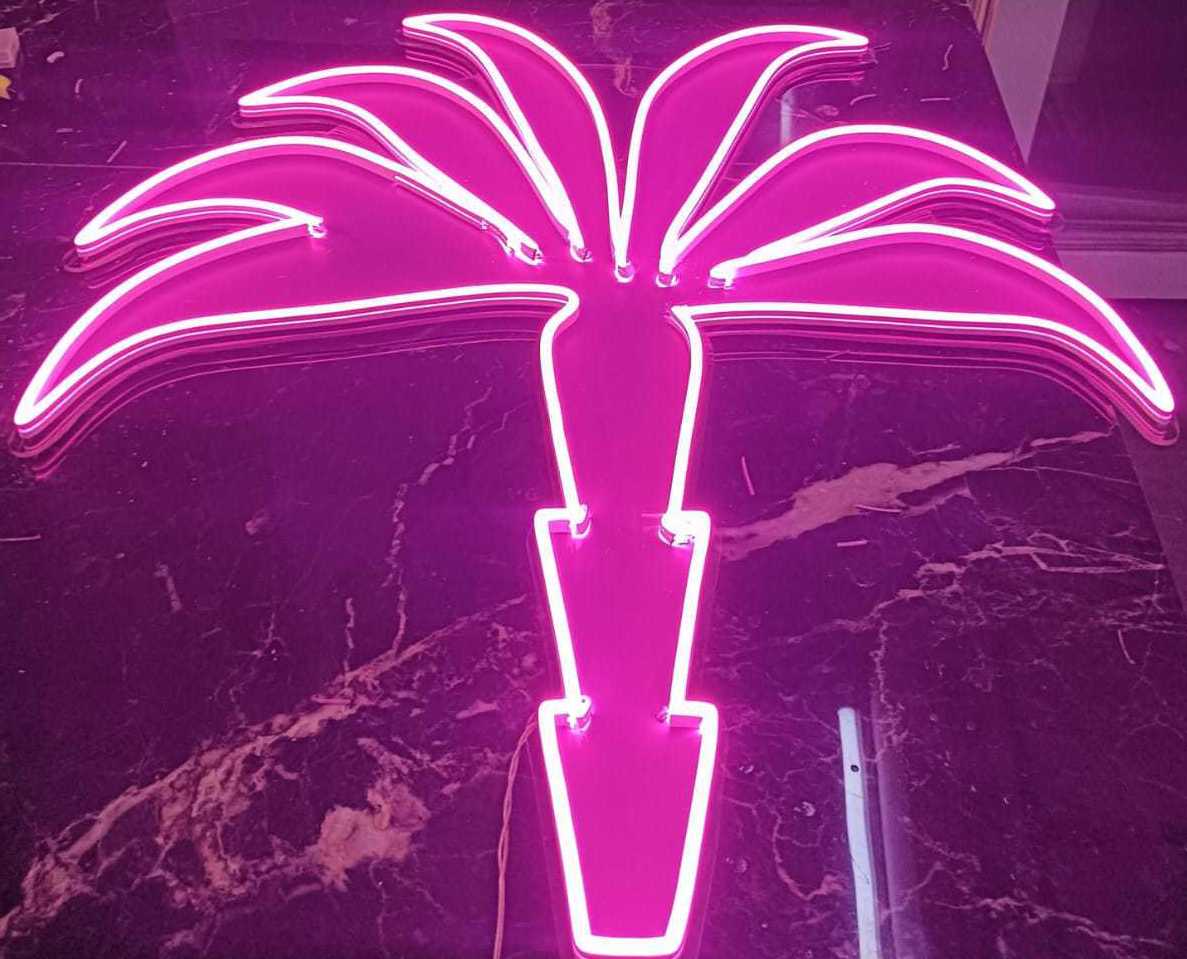 Palmoil.io is gearing up for GAPKI IPOC and RT2023 in Bali and Jakarta next month. We will be exhibiting at both conferences, offering live demos of our platform. In preparation, we are making major data and software updates to Palmoil.io including dozens of new Risk Insights, updated supply chain data, and a powerful new tools for EUDR compliance. We are also closely monitoring a major spike in deforestation and fire hotspots and tracking its implications. All the details below and if you are attending either IPOC or RT2023, please get in touch!
What's new?
Palmoil.io is closely monitoring a deforestation spike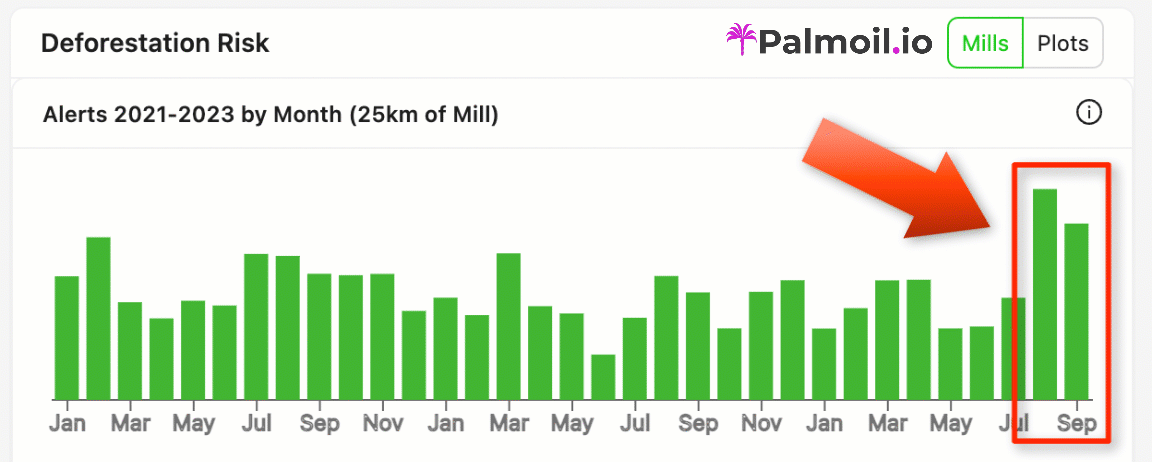 We have just released our monthly deforestation alert for palm oil mills and plots worldwide last month. As you can see above, there has been a notable jump in the past couple of months, particularly in proximity to mills. Inside plots, it's lower but still the highest September since 2020. What does it mean? Plot-level deforestation is probably a better measure of palm-related deforestation than mill proximity, but the ongoing increase in the vicinity of mills is alarming. Higher rates of forest clearing are occurring, however not all of it will be palm. This is why we are also keeping an eye on significant mining, pulp, and paper deforestation incidents in Indonesia that often occur near mills. Since palm oil firms are closely associated with many of these projects, multi-commodity monitoring is crucial. And that's something we are working on.
Increasing Fire Alerts
We are also closely monitoring a spike in fire alerts. For example, a plot owned by PT Waringin Agro Jaya had the most fire alerts in Indonesia last month. Potentially linked to intense El Nīno conditions, fires seem appear to be raging on peat inside the concession, as the September Planet scene reveals. It's only that the Indonesian government sued WAJ for fires back in 2016, and as a result, the company was fined $35 million. The fine—which it's unclear if they ever paid— appears to have had no effect on their behavior. This month's risk insights will explore this instance along with others.
We now have over 700 Risk Insights

If you are familiar with Palmoil.io, you'd know that we take pride in our analyst-reviewed risk insights. We don't rely solely on algorithms - our analysts manually review alerts with high resolution imagery and trace any deforestation. This takes time and expertise but it's a proven methodology for correctly identifying and quantifying palm-related deforestation.
The reports cover cases that are potentially EUDR risk and are traceable to the plot; and we just completed over 700 of these risk insights in Palmoil.io. With deforestation rates spiking, Risk Insights help our subscribers remain vigilant about deforestation risks facing their supply chain.
What's coming up?
Major supply chain update
When we founded Palmoil.io, our mission was to make the platform the most comprehensive, evidence-based, and impactful palm oil monitoring system. this latest supply chain update illustrates that we are well on our way. We have processed hundreds of mills lists, identified a couple dozen new mills, and made thousands of new supplier relationships. With the addition of 10 Latin American countries and Papua New Guinea, we can now make traceability to plot estimates in 13 countries. By the end of the year, we will have even more.
Visit our Palmoil.io Booth at IPOC and RSPO 2023!
In our previous newsletter, we announced that we are coming and exhibiting at the 19th Indonesian Palm Oil Conference & Price Outlook (IPOC) in Bali, November 1-3 and at RSPO RT2023 in Jakarta from November 20-23.  We will have a new and vita tool to demo - a private plot uploader!
This will allow you to check your supplier's plot boundaries for deforestation and legality risks without storing the data on our server.  Visit our exhibit if you're interested in learning more about what we believe will be a very useful tool for businesses adhering to the EUDR; or simply come by and say hi! We'll be happy to answer any of your inquiries and give you a live demo of Palmoil.io. Contact us if you want to book a demo in advance.
Tip of the month
Palmoil.io Help Center
By now, we hope you've discovered and taken advantage of our Palmoil.io Help Center. Our hope is that it will make it easier for our subscribers to navigate Palmoil.io. Let's break it down: Visit the "Getting Started" area to obtain answers to your most pressing issues, such as how to sign up, how to sort, search, and filter data on Palmoil.io tables, and a beginner's guide to our Risk Insights. For a better understanding of how to use Palmoil.io to assist you in your monitoring process, go to the "Forest Monitoring'' section. You can learn more about viewing historical deforestation by timestamp, seeing pixels of deforestation alerts, downloading Risk Insights KML files, and more. And finally, go to the "Grievance and News" section for information on how to find human rights grievances, download a CSV of grievances, set up a custom grievance tracker, and more.
Benefit of the month
Palmoil.io Plot Matching
Did you know Palmoil.io can assist you in matching your plots? If you are like many companies, your supplier may provide you with point locations for the plots that they source from. To help you analyze these locations for deforestation, we have launched a plot matching service. We match your points with our plot database, give you a list of plot IDs, which you can then upload into your private portfolio. The matched plots will be analyzed for deforestation, linked by estimated traceability model to nearby mills and we flag any grievances. For more information, view this deck.