Palmoil.io Newsletter - May 2022
Welcome the first Palmoil.io monthly Newsletter! Learn more about our concession monitoring, traceability, and gain insights on a new case in Cross River State, Nigeria.


Welcome to our very first monthly newsletter! As I am sure you will appreciate, we want to avoid stuffing your inbox with unnecessary messages, but we also want to ensure that you make the most out of Palmoil.io. So every month, we will send one concise newsletter covering new features, data, and tips. This newsletter is also publicly available on our blog. Feel free to share it.
1. What's new?
Concession monitoring
Palmoil.io now monitors all known concessions in Indonesia and Colombia for deforestation each month. We will be adding new countries soon. Similar to mills, concessions are organized into a list, and we use RADD alerts for monitoring monthly deforestation. For historical deforestation and remaining forest, we use Hansen et al Tree Cover Loss 2016- 2019 and Hansen et al. Primary Forest 2001. 2016-2021  These datasets give you a window into the present, past, and possible future of every concession's forest cover.
Each concession has a profile page showing the boundary of the concession and neighboring mill locations. Within each boundary you will see a hex map. Color hexes correspond to the total hectares of alerts inside each hex.
The map legend has a range of different satellite base maps that you can select to view land use changes. To review recent changes, you can toggle Planet monthly satellite scenes off and on with high resolution base maps also available.
Traceability to Plantation
Related to the new concession monitoring, we have also added a new feature called estimated Traceability to Plantation or "eTTP". eTTP is our method for determining which concession supplies from each mill. Last week, we published a blogpost explaining the model.
In a company dashboard, you will now find a tab called "supply chain". If you are a company with a mill list, all concessions that fall within a 25km radius of your mill are listed with deforestation metrics and our "eTTP" rating.
One helpful tip: If you want to prioritize which concessions to focus on, try sorting your concessions by most alerts in the past month and then filtering "eTTP Tier" to show "High (In Concession)" and "High (Same Group)".
New Risk Insights
You may have noticed that we have changed the names from "Mill Risk Insights" to "Risk Insights". Risk Insights now feature concession boundaries and mill locations. We also include a table of mills and estimate their traceability to the concession.
What's coming up?
2. Build your own grievance tracker!
We are currently prototyping a way for subscribers to set up their own grievance tracker. The custom tracker can be set up directly through your portfolio. You select your tracker or individual grievances and then edit the responses according to your grievance model. Once you have customized your tracker, you can add new grievances, comments, and share it as a link or embed it in your website. We will do a separate post next month but please contact us if you would like to learn more now.  
Tip of the month
There is so much information in Palmoil.io, it can be a little overwhelming. Every month, we'll give you a tip to help you dig deeper in supply chains and learn what's really going on.
Finding out which who has suspended a suppliers and who hasn't
Many traders suspend suppliers for NDPE violations. We track these and add them to their dashboard. To find which suppliers a company has suspended, filter the "Status" column to list only suspended suppliers:
If you want compare a company's suspensions with other companies, you can filter "relationships" by "suspended" and see if other companies have suspended the same supplier or whether your company has an active relationship with a supplier that companies have suspended.  
Insight of the month
Calaro Palm Oil Mill, Cross River State, Nigeria
Each month, we will highlight one new case that we think is of interest. This month, we are featuring Calaro Palm Oil Mill in Nigeria. This is a new mill and does not feature in Universal Mill List and was added based on company mill disclosures. In March 2022, Calaro mill had over 739 ha of forest alerts within a 25km proximity. The mill is owned by a subsidiary of Wilmar called PZ Wilmar. It supplies PZ Wilmar's refinery in Nigeria which Palmoil.io links to over a dozen company supply chains.
The map and dashboard above illustrates that over the past ten years, annual tree cover loss rates have increased during PZ Wilmar's operations. While much of the loss can be attributed to former plantation clearance, the surrounding forest has also seen marked increase in deforestation and degradation. See areas of dark red.
Based on the satellite imagery, the deforestation driver is likely smallholder related and some could be linked to a planned outgrower program. Further information is needed to understand what impact, if any, the mill is playing on nearby forest clearance.
Benefit of the month
So what's so great about Palmoil.io? Well, each month we'll tell you one benefit we think that gives Palmoil.io an advantage over other platforms :)
No siloes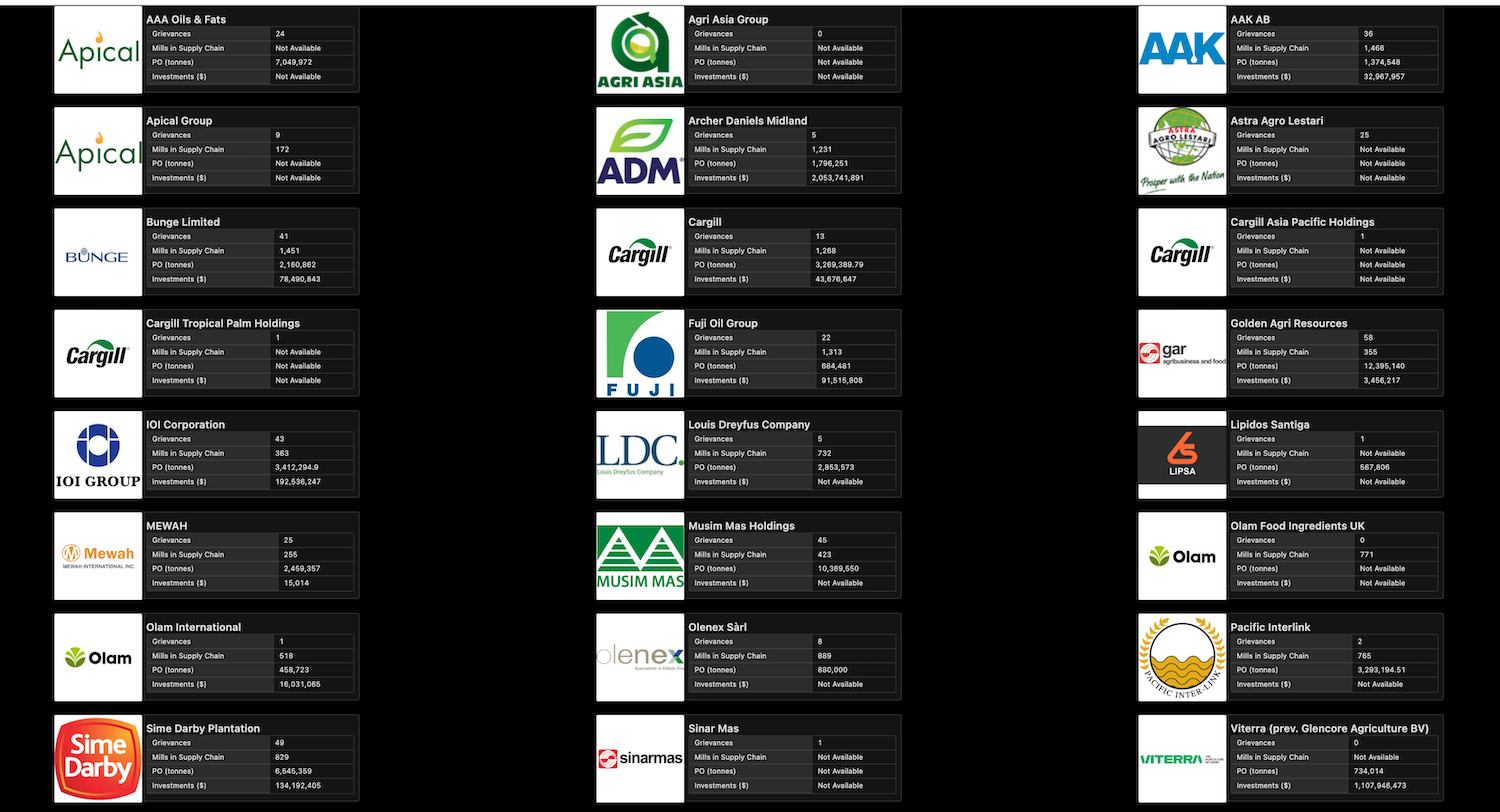 One clear benefit is we do not have siloes. Siloes are the scourge of effective monitoring. Most other monitoring systems set up a special view for your company and then feed you alerts, concessions, grievances, and maybe supply chain data related to your supply chain. That's very nice but what about everyone else? How are your peers performing? What about that supplier that you were thinking of adding? We give you access to dashboards for everyone, not just your company but ALL companies that publish mill lists.
We are also building a mill list upload tool for cases where you do need to review data privately, or shared only with your staff in your organization's Palmoil.io Portfolio. More information to follow in next month's newsletter.
Coming up
Next month we will officially launch the custom grievance tracker
Adding Tree Cover Loss 2021 data
Training tutorials. We will have a complete set of videos to help you navigate Palmoil.io and get the most impact out the system.
And finally, still not yet a subscriber? Sign up at palmoil.io/pricing